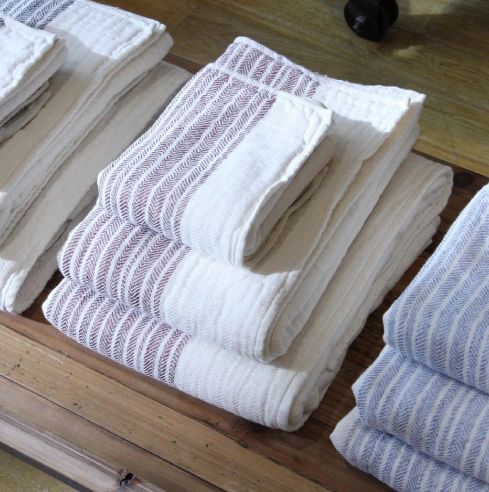 Flax Line Towel
Towel where one side is gauze, with a soft terry towel pile on the opposite side.
100% organic cotton. 
Pattern of herringbone is designed into the weave on the surface of the gauze side.  Linen yarn lined, a natural texture with unique original elasticity and tenderness . Use this towel as a wrap after shampooing or use after your bath . 
The texture of this towel lasts forever - beautifully woven with organic cotton. 
Combination of Ivory-based Navy is popular. 
Variations of Colours
Durable, Soft And Eco-Friendly .. The Flax Line Series Is Truly Exceptional It's Double-Sided With Organic Cotton Terrycloth On One Side, And Cotton Gauze On The Other The Simple Yet Detailed Chevron Patterns Have A Mix Of Linen To Add A Little More Texture To The Already Beautiful Piece. Better Yet, It's Shrink-Proof And Fade-Proof! 
Washer 34 x34 cm
Hand Towel 34 x 85
Bath Towel 60 x 125cm